Let's take a visit in the heart of the urban areas of Mauritius, specifically in Quatre Bornes. "La Ville des Fleurs", one of the largest city in Mauritius, is located southwest of the island, in the region of Upper Plaines Wilhems, about 15 kilometres south of Port-Louis.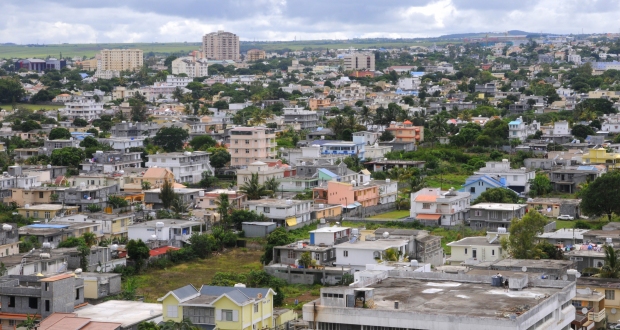 Shopping experience in Quatre Bornes is absolutely amazing, thanks particularly to its central market place, always full of people… a visit here is a must.
Several theories are related to the name of Quatre Bornes. It may come from four bounds placed on the plan of Descubes in 1880 to delineate Palma, Bassin, Beau Sejour and Trianon. The city is divided between several neighbourhoods and suburbs, including La Louise, Palma, Sodnac, St Jean, Belle-Rose and Vieux Quatre Bornes, among others. Of course, the town centre is the liveliest part of Quatre Bornes
The central market place of Quatre Bornes… an authentic shopping experience
Quatre-Bornes: its most prized attraction among the locals is its market! It is a famous tourist centre for an authentic shopping experience. On Thursdays and Sundays, it becomes a really crowded area where Mauritians and tourists meet, all interested in the sale of textile products. Over the years, this fair trade clothing has become a real institution!
On the hundreds of stalls, there are fabrics, jewellery, clothing, accessories, crafts and eclectic objects, like Chinese Chalks to get rid of cockroaches! And all for a small price… Clients strolled along the narrow alleys. So, be prepared to move slowly among tight-packed crowds! The merchants are gathered in front of their stalls with lot of products thrown here and there. They shout loudly in the hope that the number of clients increase all day long.
This fair, with its very peculiar atmosphere, is the perfect opportunity to grab a bargain! However, there is a golden rule to respect during your visit: every item is negotiable in this Ali Baba's cave!
Try to be a little patient, since the centre of Quatre Bornes has a reputation for rush-hour traffic jams.
Every Thursday and Sunday, the textile market transforms Quatre Bornes into a fabric Mecca!
The food market on Wednesdays and Saturdays has hundreds of stalls selling an eye-popping variety of vegetables and fruits, fresh produce, including local specialities to taste. Bon appétit!
A busy shopping town
Shops of all kinds are located on both sides of the Royal Road that divides Quatre-Bornes in two. Then, take a trip to the heart of the city to discover the Orchard Shopping Centre with restaurants, supermarket and lot of shops selling textiles and accessories brands at competitive rates. This shopping centre is a meeting place for young people.
The commercial side of Quatre Bornes is accentuated by the proximity of the Trianon Shopping Park. There are shops, cinemas, a bookstore, a pharmacy, a hypermarket, several restaurants and a Food Court, as well as a children's play area.
A great place to live
Climate: All the inhabitants of Quatre Bornes agree that their city's climate is the best of the island… Indeed, it is neither too hot in summer nor too cold in winter!
Real Estate: With such a climate, it is therefore hardly surprising that there are more and more residential areas in Quatre Bornes. The real estate sector is doing well. Sodnac is a chic and rich residential area full of opulent residences, while Vieux Quatre Bornes is appreciated for its tranquillity. For their part, tourists have at their disposal several hotels, guest houses and hostels where they can stay.
A place to have fun: The people of Quatre Bornes meet regular in the courtyard of the Municipality where concerts and other events are held. There is also a children's playground next to the Fire Station.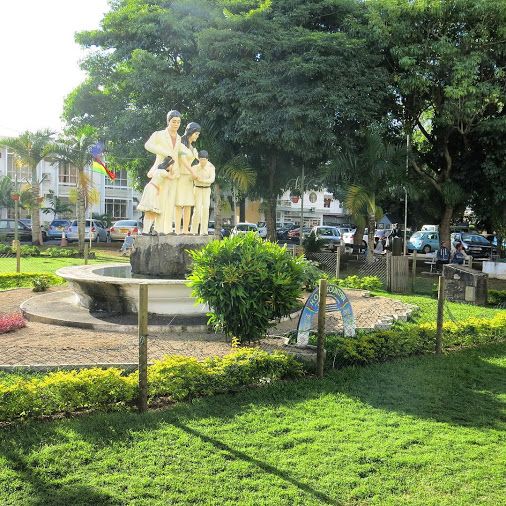 The courtyard of the Municipality of Quatre-Bornes
Take a break for a snack: Quatre Bornes is not a place dedicated only to shopping. During your stay there, seize the opportunity to taste the flavours of the Mauritius gastronomy, whether in restaurants, at the central market or in the shopping centre. The local specialities will appeal to your taste buds.
More about the "Ville des Fleurs"
The Victoria Hospital, Candos: This is one of three major hospitals in Mauritius. Located at Candos, the hospital provides free medical care and provide emergency services and basic medical care.
The Sodnac Wellness Park: This park is located on the former shooting range of the Special Mobile Force (SMF) at the foot of Candos hill. It includes, among others, a long jogging track of 3 km, a family area with kiosks or benches. This is the ideal place for a break on the central plateau, just some minutes from Quatre Bornes' frenzied agitation. You will be happy to enjoy the quietness and the privacy of the park.
Le MCB Green Building in Saint-Jean: It's rather difficult to speak about Quatre Bornes, without mentioning the famous MCB Green Building in Saint Jean! The exceptional architectural, innovative and daring architecture of this building at the crossroads of the main junctions of the island leaves no one indifferent. This building gives a unique touch to the environment, although the steeple of the St Jean Church, once a landmark, is lost somewhat!
Le MCB Green Building
The St Jean cemetery: This cemetery, located behind St Jean Church, is a place of remembrance of the ancestors of Christian families in Mauritius, as well as personalities like Sir Gaëtan Duval.
At the heart of nature!
Quatre Bornes is certainly a city, but did you know that it is also a strategic starting point to travel down hiking trails off the beaten track? Be prepare to be amazed by the breath-taking views, where nature predominates in its pure state. The Ville des Fleurs is just a few kilometres from the bay of Tamarin, an essential place to go during your stay in Quatre Bornes.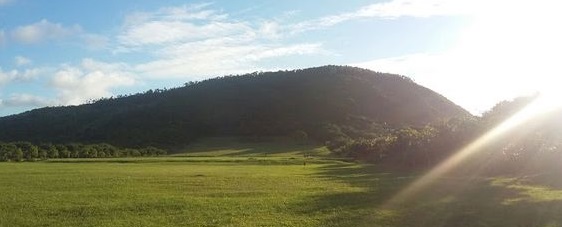 Candos hill
Various tracks will lead you on the top of the Candos hill. Once there, Quatre Bornes – and even more – is at your feet!
Image sources:
LaCasePoz.com
Mobilitytrip.com
sbd2050.org